Beachwear Dresses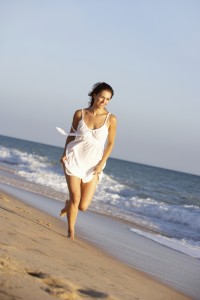 When a woman shops for beach clothes, she's got a long list of items. She'll include items such as bathing suits, beach shoes, beach totes, coverups, flip flops, and even dresses – one of today's most fashionable articles of beachwear apparel.
Beachwear dresses can be worn as coverups over bathing suits, or they can be worn simply as a beach dress. They are usually made of gauzy cotton which is cool and pretty at the same time. Many beachwear dresses are down the ankles so that they flow out during a walk on a breezy beach. Some of them may be short dresses that are cute or sexy and help keep too much sun from attacking the skin.
Some favorite beachwear dresses that women love to wear are the long bandeau dresses or any other beach dress that is strapless. They usually come in bright colors or feminine pastels and can be worn off the beach as well as on it. Caftans have been around for a long time and they are also still popular and attractive at the beach.
There are plenty of beachwear dresses that are simple, sleeveless shifts or babydoll style, and some of them even have short sleeves. Materials may be crinkle rayon or cotton as well as the gauzy cotton.
Beach dresses are also known as sun dresses which are very popular on those hot summer days even when the woman isn't on the beach. These dresses are also perfect and practical for cruise ship attire. This is a very attractive look for standing out on the deck of a Caribbean cruise.
For a much sexier look, there are other styles of beach dresses to choose from. These would include a terry tank dress, tank dresses decorated with studs, crocheted sweater dresses, off-the-shoulder tee dresses, bra tops, halter bra tops, and don't forget the animal prints.